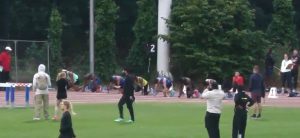 NEWHAM & ESSEX BEAGLES TRACK OPEN 30TH JUNE 2023
There were the usual fast sprint times at this London meeting expected with some heavyweight sprinters in attendance with GB's Zharnel Hughes, C.J. Ujah, and Reece Prescod on the registered race lists.
GB's Reece Prescod withdrew last minute to take up the late invite to attend 2023 Diamond League – Stockholm, Sunday 2 July, however some stiff competition remained on offer.
On the day the UK having been bathed in summer sun and high temperatures for several weeks saw a turn in the weather to inclement with lower temperatures 21C and an overcast sky. The wind was blustering on track with + and – values recorded but with hopefully some calm moments where PB's might be achieved.
For the athlete all 100m sprints on the night, Russel's first race was a second placed finish with 10.49. A personal fastest 100m outdoor season opener and good to be back competing moving on from the disappointment of missing out on the SEA games having picked up an injury just prior. Part of the territory but pleasing to be able to put the body to the test and come through with no issues.
Round 2 of the 100m and it was potentially a new PB for Russel finishing with a time of 10.38 – however unfortunately the blustery wind was recorded as exceeding legal limits on this occasion.
More: www.facebook.com/russelalexandernasirtaib/posts
But a good first outing on the UK scene, post the Singapore competition, and a good return to action to start building some race momentum.