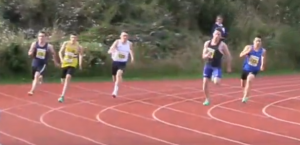 UOB T&F Series – 12 July 2023
UBSportAthletic BUAC
University of Birmingham Track and Field Series
VENUE: BIRMINGHAM UNIVERSITY ATHLETICS TRACK, BIRMINGHAM
The University of Birmingham Track and Field Series returned for 2023 with more energy and atmosphere than ever before promised from the organisers! Russel joined in for the return of their Wednesday Open Series to participate in a 200m race for these popular meets.
With good quality competition, with World, Commonwealth, and Paralympic games standards hit at previous meetings here it was a good chance to have a run out for the 200m post the 100m excursions a few weeks prior.
On the day conditions were again cooler with 20C and some chance of rain and SW wind around 13 mph and 59% cloud cover.
For the 200m race it was initially a bit tricky with a lane change for Russel due to another athletes last minute pull out and then a false start, which turned out to be a technical fault rather than any athlete jumping the gun, however eventually it was underway with a good start and first place for Russel with 21.28 (+0.8) the official time, and singled out by the organisers with the accolade of one of the top best performances during the meeting.