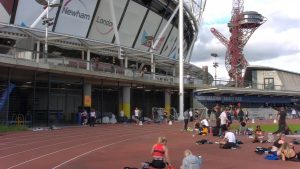 NEWHAM & ESSEX BEAGLES TRACK OPEN 13TH AUGUST 2023
The London Marathon Community Track (LMCT)
Queen Elizabeth Olympic Park, London E20 2ST
It was back once again for Russel Taib to the NEWHAM & ESSEX BEAGLES TRACK OPEN summer series event for the second time this year to compete in the 200m.
The London Marathon Community Track (LMCT) is right next to West ham United FC's stadium, who kicked off the Premiership season a day earlier on the Saturday and away at Bournemouth FC with a 1-1 draw, so the area was not too busy on the Sunday race day with the football supporting crowds who normally have an average home league attendance of 62,461, swelling the surrounding area.
The lure of a good 200m competition to go up against was on offer with GB's World athletics participant Joe Ferguson (PB 20.23) and the young up comers GB NI athletes James Hanson and David Morgan – Harris, and a familiar rival from the previous year's Australian circuit competitions with Australian Jacob Despard in attendance.
At the gun, it was a good start for Russel and solid speed and technique on the bend, but a reach for the trade mark strong finish wasn't quite there on this occasion, after an intense training and work week for Russel, but non the less a fourth place finish at 21.07 and placing just ahead of Australian rival Despard.
A great competitive race to round off the week for the athlete, and good to keep building the race levels and momentum, with strong opposition, to work on honing the race execution techniques.