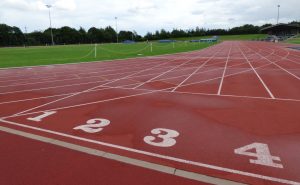 20TH AUGUST 2023
Lee Valley Athletics Centre – 61 Meridian Way, London N9 0AR
Another week of training and working for Russel Taib was rounded off with a Sunday competition in the 200m BFTTA open in London to continue with another 200m competitive run out in the build-up to a forthcoming trip back to Malaysia to prepare further with TeamMalaysia for participation in next month's 19th Asian Games in Hangzhou, China 23 Sept 2023 – 8 Oct 2023.
BFTTA set up by TJ Ossai a track and field sprint athlete, coach, and educator, who competes as a Masters athlete for Great Britain, always have great, well organised Open meets with the races seeded by times, and in the seniors category the usual strong competition expected. And good to return after July's open participation to this August's BFTTA open event to get a run out again.
On the day, for Russel, it was a fifth place finish and 21.26 for the seniors 200m. And a split spike to boot!
Whilst the world's eyes were inevitably and invariably on the World athletics championships in Budapest, it was a good turnout, and good work, for those eschewing a rest and recovery day watching the world athletics showcase instead.
Kudos to all the athletes at the competition, working on honing their craft in a "bread and butter" competition at the Lee Valley Athletics Centre, and putting in some hard yards on the track – today's sacrifice will bring tomorrow's gains, something all the current athletes appearing at the World Championships no doubt have in common.