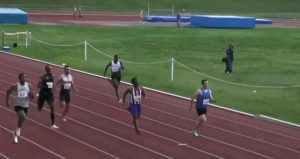 BFTTA Open
Lee Valley | 29 Jul 2023
A good chance for Russel to get a run through of both the 100m & 200m on the same day was on offer for this London competition.
BFTTA being renowned as popular meets with good organisation, seeding, and race opportunity for all levels, and always a good elite section, often has athletes attending from all over Great Britain.
But with the scheduled weekend competition coinciding with UK industrial action, unfortunately a regular feature this year in the UK, and train strikes over the weekend, and subsequent road congestion, the initial challenge for many an athlete outside London was to actually get there amidst the travel chaos and disruption.
Having achieved that successfully, it was then a typical changeable summer's day in the UK to navigate, with weather conditions all over the place. The heavy rain in London in the morning fortunately dissipated by lunchtime and left athletes with some gusting wind conditions and an overcast sky with the occasional burst of sunshine when the clouds parted. At around 21C and windy many athletes were seen keeping layered up, trying to keep the body heat from the pre-race warm up routines, and divesting to race gear behind the blocks as late as possible.
For Russel, at 1.00 pm on the day, it was the 100m up first and a time of 10.65 (legal wind).
On to the 200m a couple of hours later and Russel was first to the finish line in 21.02 (but with an illegal wind at 4.6 ms).
Another good days racing under the belt to assist with further race conditioning with high-intensity competition over 100m and 200m distances.