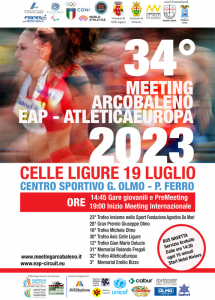 34° MEETING ARCOBALENO ATLETICAEUROPA ITALY
19 July 2023
Meeting Arcobaleno AtleticaEuropa,
Celle Ligure (ITA)
Centro Sportivo Giuseppe Olmo "Pino Ferro" Località Natta I – 17015 Celle Ligure
Russel's first and last European visit was a while back, July 2019, for the Summer Universiade in Napoli Italy and whilst a third party's administration error denied the chance to run the 200m at that time, at least a Men's relay 4 x 100m was achieved, but it was a case of "unfinished business in Italy" for the 200m until now.
Italy had put most of its big cities on a heatwave red alert as temperatures reached 46C in Sardinia on the proceeding Wednesday of the race week. The heatwave was dubbed by local media news as the "settimana infernale" – or "week of hell". So it was with some trepidation arriving, even for an evening race, to witness if the "race day variables" might yet undermine the efforts yet again in Italy with misfortune.
However it was good to get to the area and see it was partial clouds and a tolerable 27C for the venue at Celle Ligure on the night. The venue more a traditional and historically steeped stage with undoubted Italian setting and charm, and a kind of familiarity of yester year with a fair contingent of Australian athletes having made the trip over and also competing for company.
Down to business of the 200m and at the gun, it was a good start, good bend technique execution, and a strong finish for Russel to hit the tape first with a time of 20.97
Bella Italia this time round! And a seasons best to add to the continued progress.
More: www.facebook.com/reel | www.facebook.com/russelalexandernasirtaib/videos
Grazie Italia, spero di rivederti presto!