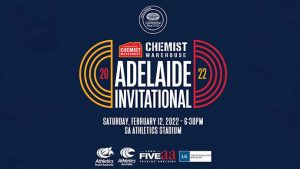 THE ADELAIDE INVITATIONAL
Date: Saturday, February 12, 2022
Location: SA Athletics Stadium, 145 Railway Terrace, Mile End, SA
The second out of state competition of the year for Russel this weekend with a trip to Adelaide with invitations based on current Australian rankings and State Rankings amongst all athletes.
This meet formed part of the World Athletics Continental Tour for 2022 and with World Athletics ranking points to be gained, the opportunity to represent Malaysia, and some top level athletes on show especially in the sprints with the likes of Australia's fastest man, Olympian and Commonwealth Games 100 metre Sprinter, Rohan Browning, a tough test was expected.
Conditions were good and the stadium facilities, with recent and ongoing investment, were great and a good crowd of 3000 fans spectating in the stands.
First up was the 100m B final – a slightly disappointing draw, just missing out from the A final on current rankings selection system and testament to the amount of top quality sprinting specialist the event had attracted. But it was 1st to the tape for Russel with a time of 10.55.
100m B final: www.youtube.com/watch?v=YtHTRH17s80
History was made in the A final. Rohan Browning beat UK great Linford Christie's 10.23s thirty year record set back in 1992 at the Adelaide Invitational, executing a 10.12s to win the A final – just shy of his Olympic feats of heat 10.01 and 10.09sec in the semi-final.
A fairly quick turn around and going again in the 200m final it was 5th place and a time of 21.26 for Russel.
Hometown hero Aidan Murphy took first with an impressive race execution in 20.66
200m final: www.youtube.com/watch?v=y5Xj8XGRjSA
Russel's view on events as posted on www.facebook.com/russelalexandernasirtaib "Not the times we were hoping for in this meet but improvements to be made. Onwards from here."
A decent and consistent showing with positives to take and Coach Denise Boyd believes "the hard runs will benefit the athlete" in the overall training phase and its straight back to "work to do" training and on to the next.