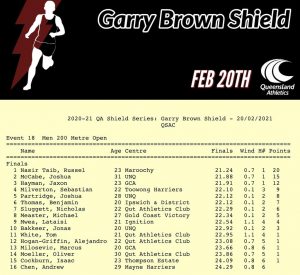 A saudade atmosphere surrounding the first foray back into competition after a long 12 months absent of competitive events was finally banished as the Garry Brown Shield kicked off on Saturday 20th February 2021 at the Qld Sports & Athletics Centre.
For the athletes longing and training hard for the absent chance to compete and with the knowledge that the prevailing pandemic conditions can take that away at a drop of a hat it was great to finally be able to pull on the spikes for Russel Taib and line up for the Men's open 200m.
The pain of separation of race opportunity was soon over – breaking the tape and posting a very decent time of 21.24 for a first outing ahead of second place McCabe at 21.88.
Overall a relief to be back at the sharp end of the business, a good start, hopeful and optimistic for the future, as we all hope the competitions can continue.
A big thanks to all the safety personnel and organisers involved in running these events ensuring health compliance and the safety of athletes and officials.