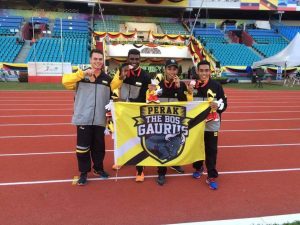 Rus made his Sukma debut at the Malay Nationals running for the Perak state team. As his first competition of the year (in what is effectively the pre-season of the Australian track season) we came up against a very strong field of competitors in top form. Unfortunately we were unable to progress from the semis to the finals for the 100 and 200 this time round. Special mention of congratulations to Khairul Hafiz Jantan who not only took gold in both events but also broke the 100m national record by clocking 10.18! A fantastic effort!
However success was on the cards for the mens 100×4 relay for Team Perak. Rus took the team home as the anchor man and the team managed to take the Bronze medal.
A great learning experience and thoroughly enjoyable occasion. Many thanks to everyone in Team Perak for the warm welcome and support through out and of course to the Sukma organisers. A fond farewell to Malaysia for now as we head back to hit the training hard again! We look forward to the next visit!