With the global pandemic pushing major competitions back one year, the year 2022 will be a colossal year for athletes, with the World Championships, Commonwealth Games, Asian Games, and SEA Games all held in the same year across the globe. However, the global resilience and effort shown to deliver a safe Olympic Games recently has provided much hope to the world as well as athletes preparing for next years' major championships despite Covid. With this in mind, Russel has been undergoing his pre-season training program since the middle of May 2021, building upon his physical and mental attributes that will keep him in good stead amongst what will be a highly anticipated and major 2021/2022 athletics season.
"I had a late start to the Australian domestic season in 2020/2021 and my training was altered due to the pandemic restrictions and niggles. Unfortunately, there was less ability to tailor training for peak performance at competitions given the often-revised competition dates due to Covid and other factors, but we worked as well as we could under the circumstances. I had a decent start to the domestic season, including running my fastest ever 200m Season opener, but a few injury niggles started to compound themselves at the business end of the season. I ran Queensland state Champs under some pain and discomfort, but I was able to claim the bronze medal for the Open Men's 200m event. After that it was touch and go that I could make the Australian Nationals but thanks to the team around me and medical team I was able to compete. At that stage there were no international events upcoming available from Malaysia due to ongoing covid cancellations, travel restrictions and/or postponements for the events pencilled in or other selections for competition opportunities for May, June and July so we restructured the training and competition plan and had to just refocus for 2021/2022.
Since then, I took a 4-week rest during April/May to heal and recover before commencing pre-season in the middle of May. Fortunately, the signs are promising thus far. I feel better as each block of training has passed after what was an interrupted previous athletics season last year. My coach and I in early May reviewed what has been going well and what needs more work in order to figure out the best training plan for me going forward. We didn't reinvent the wheel, simply ironed out a few edges and refined a few things. I am pleased with how things are progressing, after a lot of conditioning work I have put the spikes back on for some faster workouts. I am looking forward to moving into the next training block." – Russel
The current running program includes a combination of track workouts and resistance workouts such as uphill running. Little by little, getting the work in, coming back day after day and building on the work output has been the goal over the previous 3 months.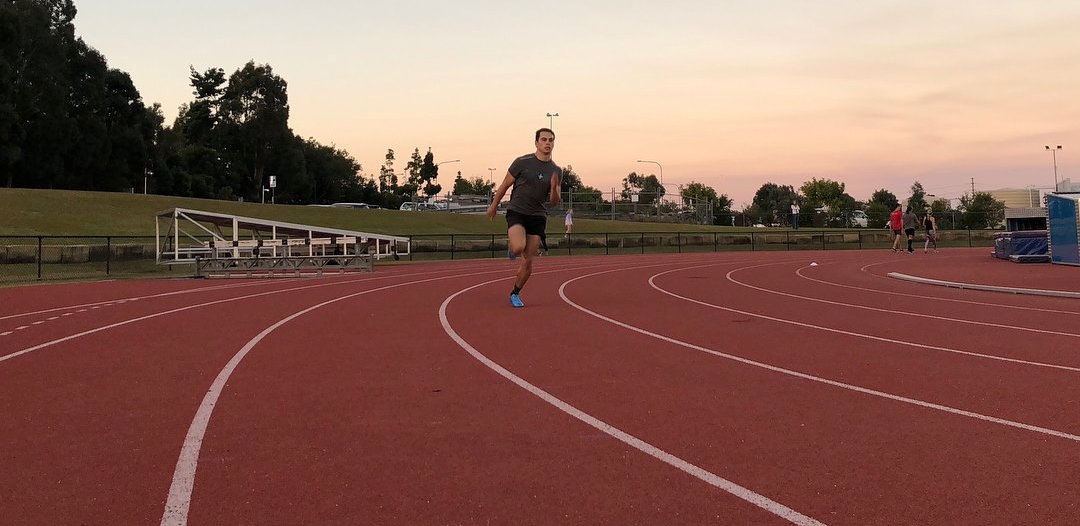 When asked what keeps him motivated in the absence of international competition opportunities in past several months, Russel shared his new-found philosophy:
"I have adopted this mantra during this long pre-season of 'being reliable in order to be remarkable'. Essentially, it's a way of reminding me that during the pre-season you simply need to be reliable, set the foundations and nail the basics. Pre-season to me is about fronting up each day with the intent to get that little bit better, faster, stronger, then rest and do it again consistently. It is a lot of conscious daily efforts to create unconscious executions on race day. If you do that right, then come in-season when you are competing regularly, that is when you can hopefully string along a nice collection of remarkable performances".
Meanwhile, Russel has continued to progress nicely under strength and conditioning coach Aaron Turner, with an emphasis on optimal technique and training load in order to allow for strength progressions while emphasising the prevention of injuries. This includes staple exercises such as deadlifts, core and stability exercises, and tendon loading around the knees, hips and ankles.
Russel has further re-introduced Pilates to periodically fit into the training regime.
"The addition of Pilates has helped increased my mobility and stability, both essential for running technique and to avoid injury due to body imbalances. It is a new stimulus to keep my competitive mind racing, as the exercises are quite challenging, while each exercise involves deliberate mindful movement patterns and has an emphasis on breathing properly, which has helped me breathe better when running. I feel it has really benefited my training and physical health".
With Covid still an issue worldwide, Queensland has been forced into a couple snap lockdowns throughout the past few months. However, Russel is adamant that he has maintained a good level of training without drastic interruptions.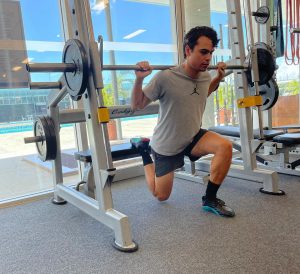 "My head coach has me completing running sessions between track, grass and hill surfaces. I have been fortunate to be able to maintain a relatively consistent running program. The gym work has more so been interrupted through the pre-season, as gyms were closed during the snap lockdowns. You lose a couple strength sessions here or there, but I am certainly not complaining; I have been very fortunate being in Brisbane throughout the pandemic. Plus, the resistance sessions such as hills increase leg strength so although not a replacement for gym sessions it does help bridge the gap during those lockdown periods. The main interruption Covid-19 has had on my training is that I have only seen both my athletics coach (Denise Boyd) and SnC coach (Aaron Turner) a handful of times in the past 18 months. However, prior to Covid-19 I was only able to see both coaches once every fortnight due to travel distance as well as work and university scheduling".
Covid's impact on competitions has been disappointing as it has meant no international competition opportunities have been available this year or last for Russel due to postponements and cancellations, while Covid regulations on international travel could have provided complications.
"Recently the Southeast Asian games in Vietnam were also postponed for this November which was a big target to attend and do well at. However, we all understand the circumstances, and I am fortunate that the Queensland and Australian domestic competitions will become available soon. It appears I will be competing locally in Queensland for the remainder of this year, which is still beneficial as November/December normally produce fantastic race weather conditions, but the hope is that 2022 will hold some international competition opportunities. In any case, the primary objective is to prepare as well as possible for the upcoming season and to be selected for major international championships."
TeamTaib wants to acknowledge all ongoing supporters for their consistent support while following Russel's athletics journey thus far. We hope everyone is keeping fit, healthy and safe during this global pandemic. It has been very difficult but know that better days are ahead.
Get In Contact
If you or anyone you know would be interested in sponsoring Russel during his athletics journey, please feel free to contact us.
Email: officialteamtaib@gmail.com