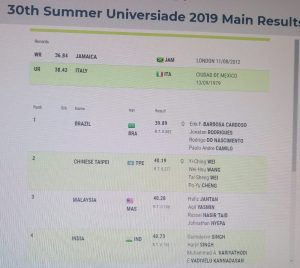 Napoli 2019 Summer Universiade.
The Malaysian men's relay team were in a determined mood to do the best for the country in difficult circumstances today as the competition was formidable with no doubt many future stars of sprinting on display and some well oiled and drilled relay teams tipped to achieve times approaching world class and go sub 40.
With only the top two teams in each heat gaining auto qualification and the two fastest non auto qualifiers progressing to the final the Malaysian team were incredibly unlucky to be pipped to the final spot in the final by the Czech team by 00.08 of a second!
All circumstances considered it was a heroic effort from the Malaysian athletes and the relay coach in Napoli but by the narrowest of margins was not to be.
Congratulations and best wishes to the finalists.