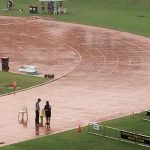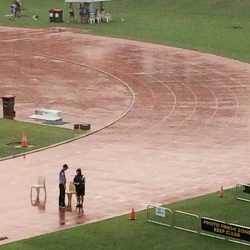 We are continuing to attend and participate in competition in the lead up to the Australian Nationals.
In addition to those listed, the end of January saw TeamTaib at the Sally Pearson Shield event despite the severe storm warnings and inevitable downpour that somewhat marred the event!
The February upcoming competitions that we will be attending are two State Championship meets. The first one is held on the AIS track meaning most of Australia's best athletes will travel from interstate for this specific competition.
The last competition is of course the national competition.
1) AACT CHAMPIONSHIPS 2017 
Dates: February 17-19
Organisation: ACT Athletics
Events: 400m on the 18th, 200m on the 19th.
Website: www.athleticsact.org.au
2) Queensland Athletics Championships (U14-Open)
Organisation: Queensland Athletics
Events: under 20 200m and 400m
Dates: competing on: feb 24 400m heats, feb 25 400m final, feb 26 200m heats and final.
Competition is from feb 23 to 26.
Website: www.qldathletics.org.au
3) 2017 Australian Athletics Championships: March 26 to April 2 
Organisation: Athletics Australia
Events: under 20 200m and 400m
Dates: March 26 400m heats, March 27 400m final, March 29 200m heats and final.
Website: www.athletics.com.au
Note at the time of publication these are still under draft programs so they may be subject to change.