As a debutant, it was Russel's first experience of the SEA Games and despite the early media reports of teething problems and the tragic results of powerful typhoon Kammuri, TeamTaib's experience has been one of colour, culture, and an incredible celebration of the variety of sports on show.
For those unfamiliar with the competition, they may not be as popular globally as other mainstream world events, but the Southeast Asian Games (SEA Games) are a big deal for the region, showcasing the aspirations and vision of the SE Asian sports bodies, and organisers, as well as preparing SE Asian athletes for bigger global competitions.
And for Russel a long held ambition to gain selection to the event for Malaysia realised and an opportunity for more valued time spent with Team Malaysia and a chance to compete with SE Asia's best athletes.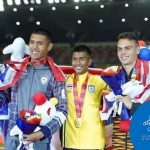 Saturday 7th saw the early morning 200-meter heats completed successfully and on to the day's early evening 200m men's final where it was a creditable third place and a bronze medal for Russel and Malaysia.
Russel clocked in at 21.11 seconds while his teammate Johnathan Nyepa finished a respectable seventh with a time of 21.41 seconds.
But it was the Thai athlete's on the day that came out on top with second and first and a blistering finish from Thai runner Khongprasit Chayut with 20.71 seconds taking the gold.
Monday 9th and it was the penultimate day of the athletics competition at the 30th Southeast Asian Games in New Clark City and the 4×100 men's relay final for TeamMalaysia with Russel at anchor leg. A tough challenge for the boys with the Thais as defending champions clearly showing great form during the competition and the host the Philippines also with high hopes on home ground.
A sterling effort had Team Malaysia take silver and improve on the last SEA games finish of fourth, but it was a Thai triumph again for the gold.
Congratulations to the Thailand team who clocked 39.27 seconds, Malaysia (39.78) and the Philippines (40.04). A great run from the Malaysian boys to hold off all but the defending champions!
Overall its was a solid debut for Russel, another great experience for ongoing athletic development, and a very enjoyable event with warm thanks to the Philippines for the gracious hosting and plethora of smiles!  Already looking forward to the next SEA Games in Vietnam in two years time!